Fetured Hats
Custom Stetson Open Road
The Cyclone
The Cyclone leather cowboy hat by American Hat Makers
Jawa

Tell your brand's story through images
Jawa
Tell your brand's story through images
Custom content
Our New Line of Leather Hats
We are excited to introduce our new line of hats. This is a full line of all American made top grade leather hats, ranging from cowboy hats, top hats, fedora's and more. All with Life Time Guarantee! Top quality on display. Enjoy your viewing.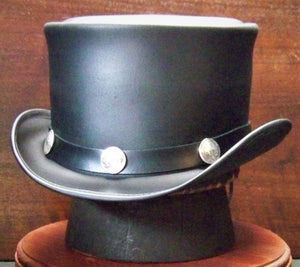 The Popular El Dorado Top Hat
Our leather top hats are one of our best selling and most popular hats that we carry. Very comfortable and easy to wear. Well-built and timeless. Try one out!!!